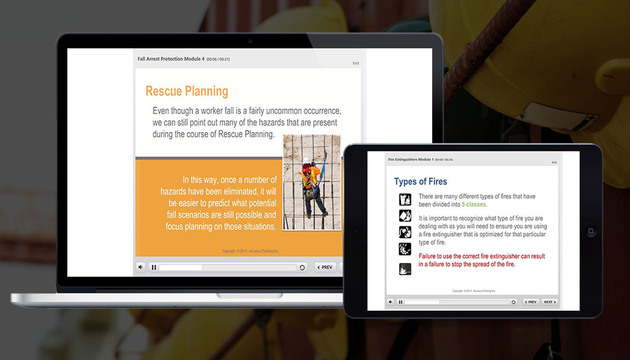 Fall Protection Awareness Online Training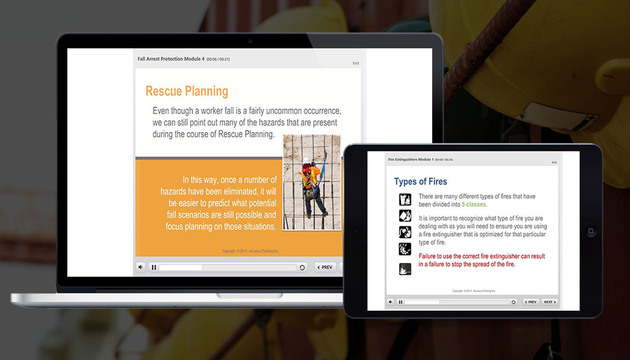 Description
This Online Fall Arrest Protection Course will guide you through all aspects of Fall Arrest, from the different types of Fall Protection, to what personal protective equipment to use and how to calculate Fall Clearances. Our comprehensive course will explain in detail what you need to know, emphasize key points and test your knowledge retention after each module. This course is required by many industries and you should check with your employer to see whether or not you need Fall Arrest Protection Training. Doing both theory and practical on-site training shows that the employer is doing their "Due Diligence" and they will comply with Occupational Health and Safety Regulations. After completion of this course you will be issued a certificate of completion.
Ontario Fall Arrest Training Standards:
As of April 1, 2015 the Ministry of Labour for Ontario has implemented new training regulations pertaining to Fall Arrest Protection training. The training is called "Working at Heights" and can only be taken in a classroom setting by a certified provider. The Ministry of Labour for Ontario will provide the list of providers. There will be a 2 year implementation period for workers to obtain this training (April 1, 2017).
Online certificates for Fall Arrest Protection training can still be accepted by employers during this 2 year period, however, there is a possibility that additional (hands-on) training could be required.
Course Outline
Key Points on Fall Arrest Protection:
Fall Arrest is to stop a worker safely after a Fall has occurred
Anyone working at a height of 3 metres or more is required by law to be Fall Arrest trained
All employers are required to show diligence when training employees
By taking both theory and practical on-site training employees will achieve OHS compliance
After completion of this course, you should be able to understand the following:
Types of Fall Protection
How to spot Fall Hazards and protect against them
Types of equipment used in Fall Protection
How to maintain your gear
CSA Standards
Course Details
Length:
1 hour and 30 minutes